Public Programs

Oedipus Revisited: The Hero as Initiate [Zoom Webinar]
March 12, 2022
@
10:00 am
–
1:00 pm
MST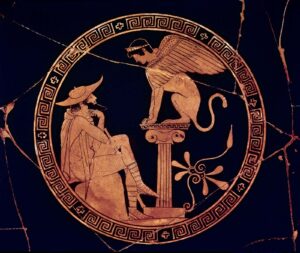 FRANCES HATFIELD, PHD, MFT
By the time of Homer's Odyssey, where we find the first mention of Oedipus, the myth was already ancient, reaching into prehistory. Sophocles' play Oedipus Tyrannus was first performed in Athens shortly after the plague years of 430-426 BCE, in which more than a quarter of its inhabitants died, leading to its defeat by Sparta and ending its status as a superpower in Ancient Greece. The play opens with the inhabitants of Thebes begging King Oedipus for aid in understanding and curing the plague. The play thus has special relevance for our time. 2,300 years later, the myth of Oedipus emerged as a "childhood dream" of psychoanalysis, recounting the ancestral crimes of infanticide, parricide, and incest that assisted in creating our age, rendering us unconscious of our archetypal origins, and living them out as fate. Sophocles' last play, Oedipus at Colonus, shows us the path of the hero as initiate, and parallels Jung's journey of initiation as recorded in The Red Book. Oedipus and Jung offer us a path into a new age, hinted at in the Orphic cosmogonies and envisioned by Jung as the "Age of the Holy Spirit."
This webinar will go deep into how the myth of Oedipus shaped the origins and development of psychoanalysis and analytical psychology, and the parallels between Oeidpus' initiation and Jung's.
FRANCES HATFIELD, PHD, MFT is a training analyst at the C. G. Jung Institute of Santa Fe, and the C. G. Jung Institute of San Francisco, with a practice in Santa Fe. She is also poetry editor of Jung Journal: Culture and Psyche, and is the author of a book of poems, Rudiments of Flight (Wings Press, 2013).
---
Registration is now Closed. 
Everyone who paid will receive a Zoom link
via email on
Friday, May 13th
after 4:00 pm Mountain Time. 

This program will be recorded. A link for the recorded video will be sent by the following weekend to everyone who paid. 

NOTE: If you paid for CEUs, they will only be awarded if you attend the live ZOOM program.
Related Events