Public Programs

Lecture: Dreaming Evolution Forward: Dionysos and the Ethics of the Sixth Orphic Age
September 13 @ 7:00 pm

-

September 14 @ 1:15 pm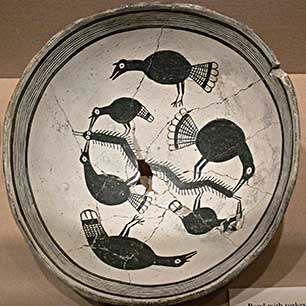 Frances Hatfield, Ph.D.
For the past 2,500 years, the development of human consciousness in the West has been shaped and dominated by an archetype which the ancient Greeks knew as Zeus. The Age of Zeus, instigated by the great goddesses themselves, has presided over the hyperdevelopment of faculties of consciousness associated with literacy and abstract thought, creating a model of the world that is hierarchical, dualistic, atomistic, and in which power is the ultimate ruling principle. The Orphics, however, foresaw the end of Zeus's reign, predicting a sixth age ruled by the god Dionysos. The Dionysos we know today is the demonic projected shadow of Apollo; a degraded remnant of a primordial god who predated the Olympian gods, including Zeus. With his eternal consort the great Goddess, he presides over the mysteries of life and not only shows us a model of nonpatriarchal masculinity, but expresses the archetypal nature of a holistic, quantum universe. In this lecture we will imagine stepping outside the archetype that has created our present world, consciousness, and values, and glimpse the individual and collective evolution of our species through the archetypal lens of Dionysos. From this perspective, we will consider the ethical implications of the collision of Apollonian and Dionysian paradigms for the theory and practice of psychotherapy, and for our place in a divine cosmos.
Workshop: The Initiation Mysteries of Dionysos in Depth Psychotherapy
In this workshop we will explore what is known of the ancient mystery rites of Dionysos, from the ecstatic rites inherited from the Great Mother of Neolithic times, through the initiation practices in the early centuries of the Common Era. We will then trace the re-emergence of these rites of the embodied divine in the practice of depth psychotherapy, ecstatic dance, Alcoholics Anonymous, and psychedelic assisted therapy. Ethical challenges inherent in the nature of depth psychotherapy from this perspective will also be explored.
Frances Hatfield, Ph.D., LMFT, is a Jungian analyst in private practice and member of the Jung Institutes of Santa Fe and San Francisco, where she has taught in the analytic training and extended education programs. Her book of poems, Rudiments of Flight, won the 2014 Gradiva Award for Poetry from the National Association for the Advancement of Psychoanalysis. She is also an associate editor for Jung Journal: Culture and Psyche.
Lecture:
Friday, September 13, 2019
7 pm – 9 pm   –   $10*
2 CEUs or 2 Ethics CEUs
Workshop:
Saturday, September 14, 2019
9 am – 1:15pm   _   $55*
4 CEUs or 4 Ethics CEUs
*
(add $20 surcharge for CEUs)
Related Events